Hey Everyone! Welcome to my page. I have the great privilege of being asked to go back to Africa in 2013, this time to Uganda. As some of you know I was in Ghana in early 2012. This will wrap up my two-year gig as a volunteer with the CCA (Canadian Cooperative Assoc.). I learned an awful lot in Ghana, and am very excited about this trip as well. If all goes well with the internet Gods over there, I will attempt to blog as often as daily. I am partnered up with Craig for our trip and so he will hopefully be sharing on here as well. I hope that you like reading what we write - those of you who know me well know that I will try to write some fun stuff in here as well. :-)
Here's the W5, as well as a quick fact lesson on Uganda:
What
: Volunteer Coach through the CCA assisting credit unions in areas that need our help - from policies and procedures, technical, governance, human resources, pretty much anything.
Where
: Northern part of the country
When
: In-country from January 19 for approx. 2 weeks
Why
: Well why not? ;-)
(ok, for those of you who can count, yes, that was only 4 W's.....oh well, figured I didn't need to explain the 'who' W)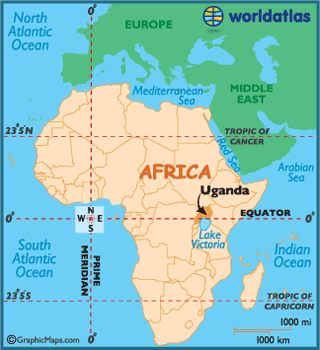 Uganda - The Pearl Of Africa!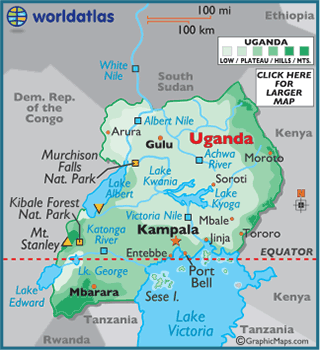 Name:
Uganda
(long form)
Republic of Uganda
Capital City: Kampala (1,659,600 pop.)
Uganda Population: 35,873,253 (2010 est.) approx. half are under 15 years of age!
Roughly the same population as Canada, but in an area 1/3 the size of Manitoba.
Currency: Uganda Shilling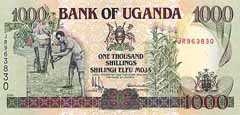 1000 Ugandan Shillings (worth about 40 cents U.S.!)
Language: English (official national language, taught in grade schools, used in courts of law and by most newspapers and some radio broadcasts), Ganda or Luganda (most widely used of the Niger-Congo languages, preferred for native language publications in the capital and may be taught in school), other Niger-Congo languages, Nilo-Saharan languages, Swahili, Arabic
Largest Cities: (by population) Kampala, Gulu, Lira, Mbarara, Jinja
Name: Meaning Buganda in Swahili, meaning 'Brothers and Sisters'
Religion: Roman Catholic 41.9%, Protestant 42% (Anglican 35.9%, Pentecostal 4.6%, Seventh Day Adventist 1.5%), Muslim 12.1%, other 3.1%
Uganda is one of the world's poorest countries; its economy has suffered form devastating economic politics and instability, and in fact fifty-one percent of the population of the country still live slightly below the international poverty line of US $1.25 a day.
Winston Churchill declared Uganda the Pearl of Africa. It gained independence from Britain in 1962, and the first elections were held. However, over the next decade the wide range of ethnic groups and political differences in Uganda proved difficult to govern.

Thanks again for visiting my page, and keep coming back! This is new to me, but I am hoping to also post pictures as we go, and hoping you can make comments on here too if you want to.

Cheers! Barb